Plano Neighborhood Flagstone Pavers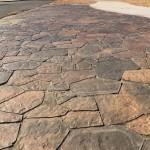 In the City of Plano, we laid these Pavestone Flagstone Pavers. We used a random pattern with a sand bed and joints set next to a city sidewalk.
Have you seen this sidewalk in your neighborhood? Go walk on it when you get the chance.
The General Contractor for this job was Roescho Construction, Inc.
Do you need this type of paver for your next project? Give us a call and we can discuss!